Navigating the U.S. Health Care System
Navigating the U.S. Health Care System
Navigating Through the U.S. Health Care System for Immigrants, Refugees and Migrants
is a set of books to help non-English speaking newcomers to the United States learn about the U.S. health care system.
New arrivals from other countries are often confused by the differences between the U.S. health care system and that of their home countries.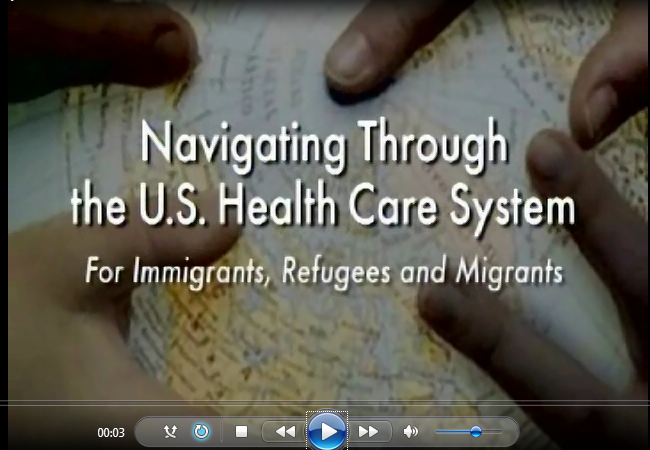 View our new instructional tutorial that will take you through each of the Navigating resource guides to enhance your utilization.
The Instructional Video will:
Explain the history behind the development of the Navigating Toolkit.
Describe the contents and utilization of each resource guide.
Highlight the cultural specifications.
Give interactive scenarios that will assist you navigating through the information available in the resource guides.
Highlight the most efficient use of the Navigating curriculum for health educators.
Navigating Resource Guides in English, Spanish, Vietnamese, Arabic, and Russian can be downloaded from this website by clicking on your language preference.
To bridge the information gap Navigating Through the U.S. Health Care System for Immigrants, Refugees and Migrants was created with the following components:
Newcomer's Guide, an introductory handbook on the U.S. Health Care System (English | Spanish | Arabic | Vietnamese | Russian)
Resource Guide, a directory to Health Care Facilities and Information in the State of Virginia (English | Spanish | Arabic | Vietnamese | Russian)
Teaching curriculum about how to use these materials has also been developed for community organizations and faith-based groups working with refugees, immigrants, and migrants.
Both guides are available in English, Spanish, Arabic, Russian and Vietnamese.
Each has been specifically researched and written with culturally appropriate perspectives and explanations relevant to each of the four newcomer populations.
In addition to answering questions such as:
Where to get care
Who gives care
How to pay for care
It includes information about the socio-cultural components of health care:
Explains the importance of asking health providers questions
Explains why appointments are necessary
Explains what to expect from a U.S. caregiver